YOGA TEACHER TRAINING COURSE
Learn the fundamentals of Yoga with exceptional teachers in Goa, India
The registrations are now open
This intensive yoga program of 200 hours and 22 days is designed to give you the foundational skills and confidence to teach yoga based on the lineages of Hatha Yoga and Ashtanga Vinyasa. It is the path to becoming a certified yoga instructor.
This 200 hr yoga teacher course is the product of many years of experience and is structured in a way that allows our students to embrace and understand yoga from different perspectives. This intensive period of study and practice transmits the connection between the main sources of ancestral knowledge; Ayurveda and philosophy; Meditation and mantra; Pranayama and Asana.

"Under the guidance of our Yoga Teachers, you gain the skills and confidence to be able to teach others and develop your own voice and style."

The program is divided into 4 modules that cover the most important aspects of learning yoga: TECHNIQUES, TRAINING AND PRACTICE, YOGA HUMANITIES, PROFESSIONAL ESSENTIALS and ANATOMY AND PHYSIOLOGY.
Techniques, Training and Practice
IN THIS PROGRAM
YOU WILL LEARN:
TECHNIQUES, TRAINING AND PRACTICE
Asanas
Pranayama
Mudras and Bandhas
Relaxation Techniques
Yoga Nidra
Meditation
Health Management
History and Purpose of Yoga
Yoga Sutras of Patanjali
The Bhagavad Gita
The 8 Limbs of Yoga
The Science of Ayurveda
Tantra , Nadis and the Gunas
Yamas
Principles of Teaching
The Role of the Teacher
Sequencing of a Class
Chakras and Subtle Body
Systems Muscular and Bone Systems
Cardiovascular System, Respiratory and Nervous
Biomechanics
Contraindications, Misalignments and Adaptations
TYPICAL SCHEDULE OF THE 200 H COURSE
The complete program is divided into 3 blocks of one week each. Every day is a unique experience with different classes from morning to afternoon/evening. Generally, during Saturday afternoons and Sundays, you will have time to study and rest.
| | |
| --- | --- |
| 6:30 am | PRANAYAMA / MANTRA |
| 7:00 am | HATHA YOGA / ASHTANGA VINYASA YOGA |
| 8:30 AM | BREAKFAST |
| 10:00 AM | YOGA PHILOSOPHY / YOGIC STRESS MANAGEMENT PROGRAM / ANATOMY |
| 11:30 am | ALIGNMENT AND ADJUSTMENT |
| 1:30 PM | LUNCH |
| 2:30 PM | GROUP SESSION / SELF-STUDY |
| 3:30 pm | YOGA NIDRA, MEDITATION (ALTERNATE DAYS) |
| 4:00 PM | YOGA NIDRA |
| 5:30 PM | PRANAYAMA, MUDRA, BANDHA & MEDITATION |
| 8:30 PM | DINNER |
Yoga takes you to the present moment, the only place where life exists.

- Patanjali
Prashant is a yoga master trained in Bihar School of Yoga, one of the oldest and most traditional yoga centers in India.

For more than 10 years, he led a purely yogic lifestyle, learning yoga under the supervision of his Guru, Swami Niranjanananda Saraswati.

Thanks to many years of experience conducting yoga and meditation sessions, he has acquired a unique ability to understand human behavior, stress, anxiety, diseases and their management.
Meditation, Mantra and Pranayama
Parimala is an experienced teacher, passionate about helping others through the science of Yoga.

She has University degree in Yogic Science and a Master's Degree in Advanced Meditation Techniques such as Mental Sound Resonance and Pranic Energization Techniques, which allow channeling energy and controlling emotions through Mantras.
Profesor de Ashtanga Vinyasa
Praba was born in Tamil Nadu into a family of yogis. From the age of 17 he began to study Ashtanga Yoga, the yogic tradition of the region. He has more than eight years of experience teaching in different parts of the world.

His teaching methodology is characterized by his dynamic and energetic style, mixed with his soft voice and his love for teaching. He is currently an Ashtanga Vinyasa teacher at Kavaalya.
Gaia is an experienced Hatha Yoga teacher. Her interest in this ancient science began at the age of twenty, when she developed a deep love for the practice and teaching of yoga.

Today, Gaia teaches what she practices. From Hatha Yoga, to Ashtanga Yoga and Vinyasa Flow. Her classes represent a balance between tradition and her own style, reflecting her personality and commitment to this process for well-being.

She is an open-minded, fun and supportive person. She teaches that through constant practice you will learn more about your body and gain a greater awareness of your true nature.
WHAT IS UNIQUE ABOUT THIS COURSE

Not only for Teachers
Although certain classes are focused on the teaching methodology of yoga, this course is also very appropriate for those who want to deepen their technique and knowledge of the different aspects of yoga.
No prerequisites
This is a course designed for all levels, which means that you do not need to have previous experience in yoga to take advantage of it 100%.
Amazing Location
This 200-hour TTC training course takes place in front of the amazing Mandrem beach. You enjoy the sea breeze while practicing asanas in the yoga rooms with sea views.
Yoga Alliance RYT-200 200 Hour Certificate
Upon completion of this course, you qualify for the Yoga Alliance RYT-200 certificate, which allows you to teach yoga anywhere in the world.
Confidence
During the course you gain the skills you need to lead and organize your own yoga classes.
Transformative Experience
This is an extraordinary course. You reach a high level of self-knowledge that leads to personal changes like you have not experienced before. You also establish lifelong ties with people like you.
¿Por qué ser profesor de yoga?
It was not easy to choose a center, but after starting classes and after a few days, I realized that I am where I wanted to be. The work of the entire team and especially that of the teachers, so committed and so generous when it comes to teaching, makes the experience unique. The truth is that everything happens as if it were effortless, it is as if it were flowing. Time passes very quickly but at the same time it is as if I have been here all my life
The Teacher course with Kavaalya a is a time in my life that I will treasure forever. I grew more mentally and spiritually in that month than any other time spent at school, university or on previous travels. My understanding and relationship with yoga has fundamentally changed and I have a much deeper connection to the practice and within myself which I can now enjoy and explore confidently in my own practice and integrate into my life at home.
A very enriching experience, I learned a lot from yoga, beyond the postures, the history and the stages to which it aspires to reach.
After the experience with Kavaalya, yoga takes on a very deep meaning, here they teach you how it should be taken in life and in all aspects. The team is very friendly, and the facilities and place where it is located is more than quiet. Additionally, the food is very good! 🙂
OUR YOGA TRAINING CENTER IN
GOA​, INDIA
Located on the beach in Goa, among lush coconut trees that provide the right environment for learning and relaxation. With the yoga shalas facing the sea: it is truly a magical experience to practice while the sun rises and you receive the coolness of the sea breeze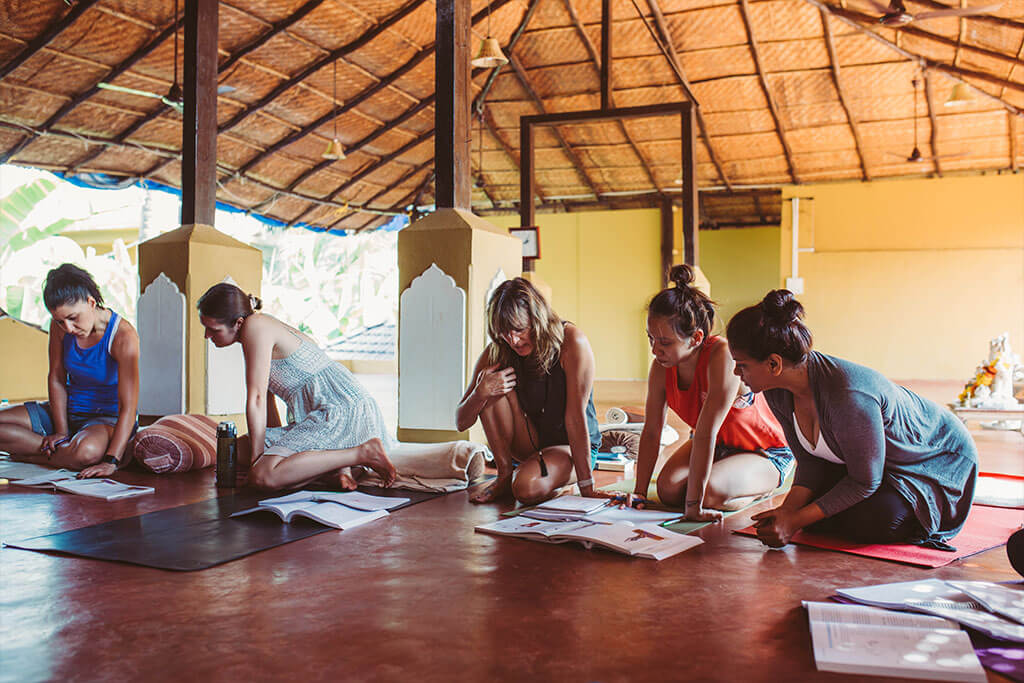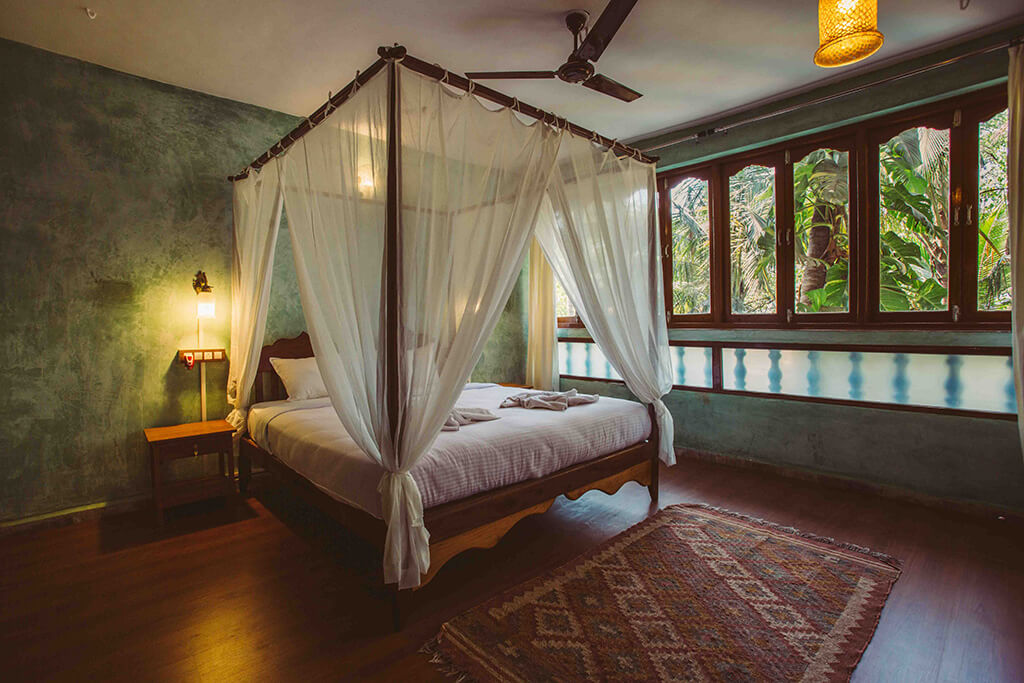 Yoga Teacher Training Course in India - 200 Hours
Double Room with Air Conditioning
Single Room with Air Conditioning
Be one of the first 10 people to register and get a 25% discount
Only €500 deposit to
reserve your place
FREQUENTLY ASKED QUESTIONS
NOW THAT YOU HAVE YOUR DOUBTS, BEGIN YOUR journey
Deepen your practice, learn Yoga from the roots with Indian teachers and prepare to develop your own endevour as a yoga teacher.

When you finish this course, you will feel the happiness of having reached the best version of yourself and you will be able to inspire other people by sharing knowledge and love.

WE WILL WAIT FOR YOU!
Yoga teacher training in India
India is the most popular destination to undergo yoga teacher training. If one has taken up the decision to teach yoga coming to the land of its origin i.e. India would be the aptest decision a prospective teacher could make. To undergo a yoga teacher training in India opens up an array of opportunities to deepen one's knowledge as well as to connect with like-minded people.
A yoga teacher is the one person without which a yoga student will not be able to master the perfect art of yoga. A yoga teacher has to put his or her mind into healing students attain peace, happiness and experiencing something fulfilling. The yoga teacher training courses are broadly grouped into 200 hrs, 300 hrs, and 500-hour programs. A yoga teacher training center also enables one to develop teaching skills and turn one into a powerhouse of yoga.
Yoga teacher training in Goa
Goa is amongst the top destinations in India to pursue a yoga teacher training program. Throughout the state, one can find the best courses conducted by yoga instructors. Yoga teacher training in Goa will surely promise a natural environment to fulfill all the elements for relaxation along with developing a deep connection with people. Another plus point would be the language factor in Goa. In Goa people are fluent in English and numerous foreign languages apart from the local languages. The coastal state of Goa has always provided opportunities and space to reach out to a grid of yoga trainers and practitioners from all over the globe. In fact, it is also a dream destination for a great stay!
Yoga teachers in India
India has emerged as one amongst the biggest yoga teachers' destinations in the world. It is also home to the largest number of yoga schools. This can be accredited to the fact that an increasing number of people want to deep dive into their physical, spiritual and mental goodness. World-renowned teachers come to India. The certification and authorization offered by the teachers can grant one to teach numerous types of yoga along with developing hands-on expertise in the area of specialization.
Yoga teachers in India further get opportunities to teach in rehabilitation centers, medical departments schools, colleges, corporate offices, and hospitals. There are also experienced and creative teams of teachers who teach a multitude of styles in a very friendly manner. A mix of cultures and individual and customized qualities can be seen in the teachers here. The yoga teachers in India always have a detailed understanding of the subjects.
Yoga teacher training courses in India
The ultimate aim of a course in India would be to churn a person into a learned and absolute teacher who has perfected the art of yoga. The person should then be in a situation to inculcate and impart it to fellow beings. India is by far the best to visit for yoga teacher training courses (YTTC) owing to its inexpensive nature as opposed to their foreign counterparts. There are numerous ashrams that offer top-notch Yoga teacher training courses in India.
After taking a yoga training course in India one will be well-equipped to even earn a living by teaching yoga abroad or become a freelance instructor. It could be a game-changer or maybe a life changer in itself. It gives one opportunity to travel across various countries as well. One needs to search for a course based on the budget location and category type. Courses also offer a deep understanding of mudras, alignments, techniques and human anatomy.
Yoga teacher training courses in Goa
In comparison to retreats in places like Bali, U.S or Europe, Goa offers yoga training courses at half the price, along with great accommodation and food. It is also an added advantage for anyone who wants to ultimately settle in Goa. The yoga teacher training courses in Goa are offered by schools and retreats as per one's budget. There are also multi-styled courses available that stand out due to their detailed nature and masterclasses. Personalized training and an authentic way of imparting these courses also improve teacher-student interaction and bonding. The other styles offered in these courses might range from Indian to maybe a fusion of both Indian and western.
Yoga TTC in India
A Yoga TTC in India does not require a certain amount of previous proficiency in yoga to be able to perform and respond to the instructions and lectures. There are no previous experience requirements to join the yoga classes, as long as you are in healthy conditions, you are very much welcome. What it is absolutely required is a strong desire to go beyond your limits. The candidates applying for the yoga TTC in India shouldn't be much worry about unimportant personal aspects of the life and conditions in India and be focused on the final purpose. Undivided attention to the goal always pays off.
Yoga TTC in Goa
For anyone looking to take the experience of life to the highest point, yoga is the way. And if you choose a yoga TTC in Goa then the process to connect to your true nature of being joyful no matter what can very much be accelerated. Don't forget that growth, as an interior procedure, means to increase your capacity to be conscious moment to moment.
The successful accomplishment of a yoga TTC in Goa doesn't lie in the capacity to get fit and flexible but in the way it decidedly changes the manner in which we live and relate to others.
© kavaalya 2022. All Rights Reserved.